When it comes to power to get the tough jobs done you need a gas powered chainsaw. Run by petrol, gas chainsaws are sturdy machines that are recommended for heavy duty applications. Whether it's chopping firewood or removing fallen trees after a heavy storm, the machine of choice is probably going to be the gas chainsaw. The reason that gas powered saws are more aggressive than electric is that the chain spins faster and gets the job done sooner.
There are trade offs with going with gas. Gas saws are usually heavier, noisier and they require more maintenance. Starting the engine also usually requires several pulls.
The market is saturated with gas powered chainsaws for a host of reputable manufacturers. To find the best gas chainsaw you need to consider several key factors.
Best Gas Chainsaw Requirements
Check out how the saw handles. Vibration can be a real issue. Too much vibration can make the job really tiring. Consider the weight of the saw and how well it is balanced.
Convenience. How easy is the saw to use. Is it east to fill the fluids (gas and oil)? Are the openings too small to use comfortably?
Ease of chain tightening. You'll need to tighten the chain every 15 minutes because it gets loose as you're cutting. Some models come with tool=less chain tension.
Safety features. Chainsaws are associated with about 30,000 injuries per year.
Kickback. Does the saw have features to reduce kickback? Does it have an automatic chain brake that is activated by kick back?
Best Gas Chainsaw
After taking all of the above factors into account and considering the reviews of professional users and tests, including those done by Consumer.org, our overall choice for the best gas chainsaw is the . ..
Husqvarna 435 16-Inch 40.9cc 2 Stroke Gas Powered Chain Saw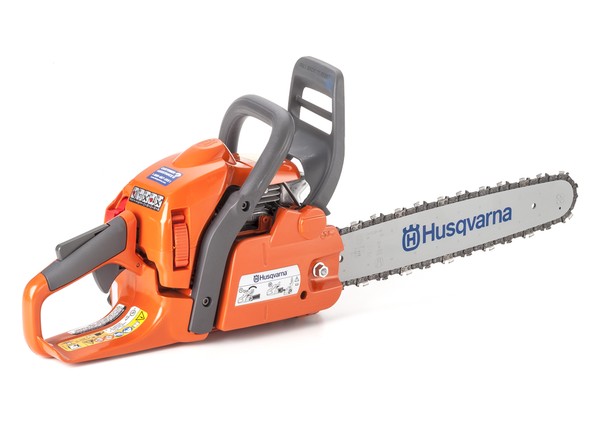 The Husky 435 is a 16 inch, 40.9 cc model weighs just 19.7 pounds and features a chain brake and 2 year warranty. It features Husqvarna's patented X-Torq system for reduced emissions and fuel efficiency, low kick-back chain and one nut adjustment for chain tensioning.
This saw is very easy to handle, starting quickly and providing plenty of raw power to get the job done. This machine is also incredibly convenient to use. It is extremely easy to add oil and gas, making maintenance a breeze. This is a well designed model, from which you can expect many years of faithful service.
Another great advantage of the Husky 435 is that it features Husqvarna's lowvib technology. This dramatically reduces vibration through the handle area, allowing you to work harder for longer with reduced fatigue.
This is the best gas chainsaw we could find, taking the above factors into account. It is also a great value for money, providing everything that the non-professional user could possibly need for well under $300.00