Juicers are versatile kitchen appliance that allows you and your family to have healthy meals every day at any time of the day. Once you get your juicer, you'll be surprised at how useful it is and how you managed to have healthy meals without it. Juicers are just like any other appliance, though-quality can come at a price and for the most part the more you spend the better the juicer.
Not everyone has an unlimited budget, however, and it's important to get an idea of what you'd like to spend first and stick to it before going too far down the research hole.  Juicers can carry some high price points for a counter-top appliance, so it pays to stick to a budget. Not every juicer is the same, so make sure that the juicer that has caught your hungry eye isn't going to dissapoint, and will be powerful enough to handle tougher fruits.
Top 10 Best Selling Juicers of 2018
>> Read Reviews Of Top 5 Juicers <<
The Omega J8006 juicer is a masticating juicer that crushes your fruit and vegetables into pulp before extracting the juice from it. This method of juice extraction retains more of the nutrients in your juice, thus making it a healthier option for making juices.
This Omega juicer is suitable for people on a juice diet or diet in general. The auger runs at lower speeds of 80 RPMs resulting in no foaming, clogging, or heat build-up resulting in less oxidization of your fruits or vegetables, and thus retaining those extra nutrients.
The feed tube is smaller on this masticating juicer than on more regular high speed juicers, approximately 1.5 inches wide. You simply need to cut your fruits/veg into smaller pieces so there will be less wastage when using the juicer. The quality of juice from the Omega Juicer is excellent so try it out for yourself.
In comparison to centrifugal juicers, there was nearly no foam at all, and this is one of the reasons the juice tasted so much better. So if its quality of juice you're after, the Omega jucier is the one for you.
Another advantage is that very little goes to waste in this juicer. The Omega 8006 squeezes every last ounce of juice out of your fruits and vegetables, so much so that the pulp is very dry. The Omega juicer can juice everything from hard fruits/veg to soft fruits/veg without a problem.
There is a bit more cleaning involved in cleaning the Omega J8006, so if you're someone who doesn't have much time it might not be for you, but really it's not that much more time, and given the quality of the juice it produces I would say it's worth a little extra time.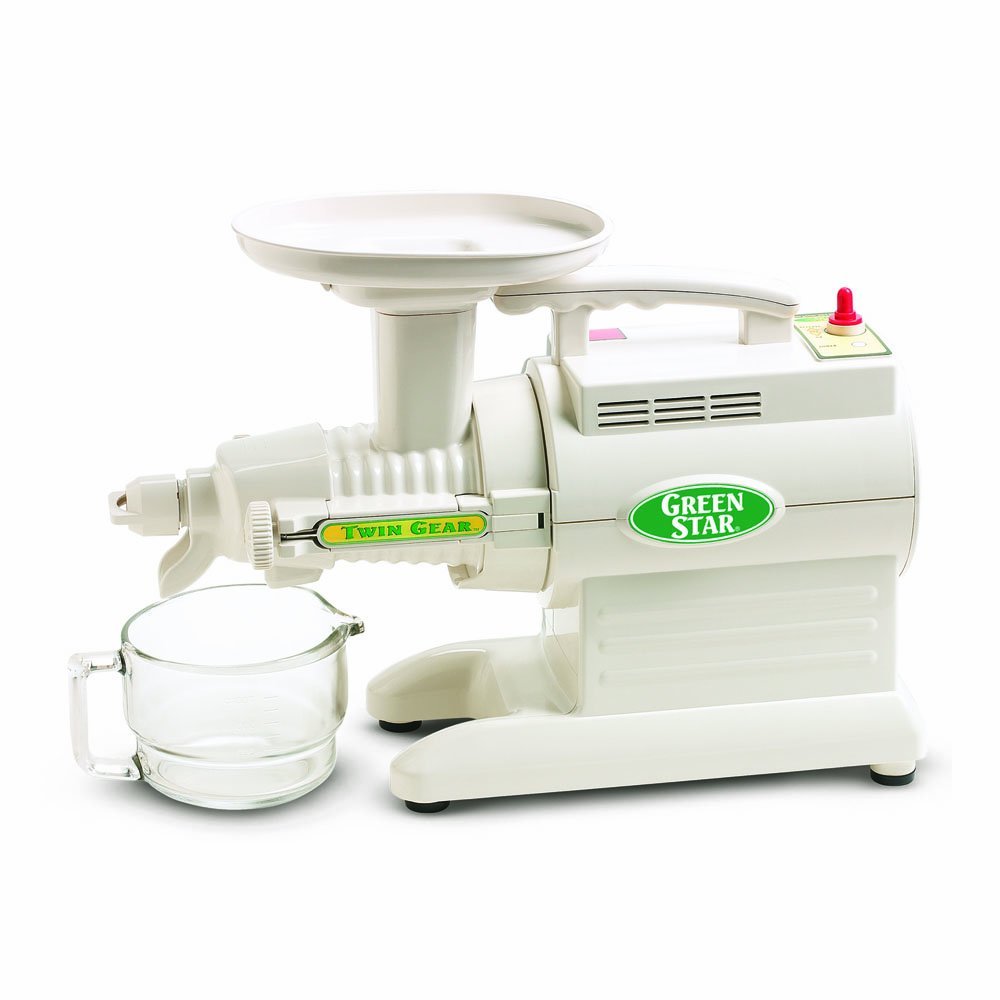 This twin gear juicer can also be used as a food mill, to prepare foods like baby food, sorbet, and not butter. Along with the typical juicing attachments. There are a selection of food processing attachments included as well. Automatic ejection also means you can juice for longer and cleanup is easier.
The Omega VRT350 Heavy Duty Low Speed Juicer is one of the top single auger masticating juicers. It's easy to use and is very powerful. If you want the healthiest juice from your goods then this is the juicer for you. Many people often say that this is the best juicer they've ever used. It's that good! And it's very easy to assemble out-of-the-box – it just takes a few minutes.
The power of this juicer can be seen in how easy and fast it operates, by simply dropping the produce into the vertical cylinder and watching as it devours these goods to produce your top quality juice in superfast time – and very little prep time is required other than a little bit of cutting and trimming of your vegetables.
The Omega VRT350 has a self-cleaning feature making it quick and easy to move onto making your next juice within minutes – it's a joy to behold! Also, the plastic outer filter does a great job accumulating any pulp that gets stuck on the screen. Altogether, a top-notch juicer and one I would highly recommend for both speed and juice quality.
The Omega J8004 Nutrition Center Commercial Masticating Juicer has a 150 Watt, 2 HP motor that can extract juice from the toughest of fruits and vegetables, including those tricky leafy green ones. This dual stage juicer can extract the maximum amount of nutrients possible from your produce – that includes all those good things like vitamins and minerals. It also has auto-pulp ejection.
The Omega J8004 runs at a speed of 80 rpm which prevents and clogging, foaming, overheating or oxidation. You can also use the J8004 for making nut butters, grinding coffee beans, and you can even make pasta with the pasta nozzle accesories which are included. As with all Omegas, they have a very durable makeup and operates very quietly and is very easy to use and clean.
It's a nice compact juicer measuring 14.5 x 6.5 x 15.5 inches and it weighs about 15 pounds – making it a sturdy sleek machine. As with its Omega cousins, it also includes a tamper to push down those tougher fruits and vegetables.
This juicer will suit many people and is one of the best in its price range and has lots of positives as described above in its favour. Now lets look at the Pros and Cons of the Omega J8004 Nutrition Center Commercial Masticating Juicer in more detail.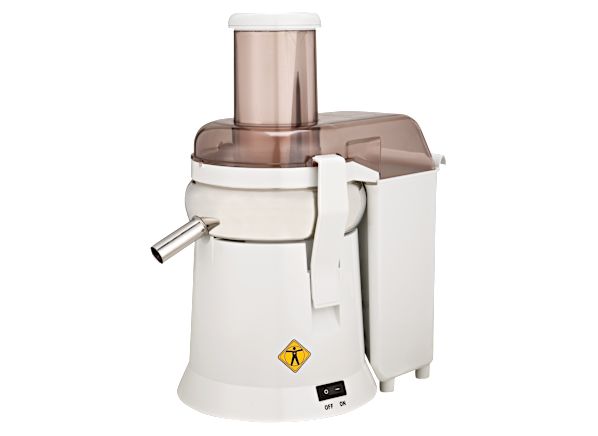 This juicer has a patented pulp ejection system that stops clogs before they happen. It's a compact, yet powerful juicer with a 2/3 hp motor, a maximum of 480W, and a blade speed of 10,000 RPMs.
It has a large three inch feeding tube and includes a stainless steel bowl and basket.
Types of Juicers
 You might think that all juicing machines are the same. This may seem true since all make the same result, which is juice. However, as diverse as the fruits and vegetables you put into a juicing machine, there are also different types of it. Learn more and know which type of machine fits the right kind of fruit.
How juicers extract liquid from produce is categorized into three. These are the centrifugal juicers, masticating juicers, and the triturating juicers. All three categories are mostly electrically operated. The categorization is based on two: the mechanism used and the kind of produce it is intended for.
Centrifugal Juicers
The centrifugal juicer is the most popular amongst them all. Aside from the fact that it extracts juices faster, it also makes more volume of extracted fluid. The machine is built on the physics of centrifugal force. It is a process that involves spinning the fruits or vegetables in a perforated cylindrical container at a speed of 6300 revolutions per minute, resulting to the separation of lighter components to the solid components. In this case, the solid pulp or fibers stay inside the cylindrical container and the extracted juice comes through the perforation to the outlet. The centrifugal machine is great for pulpy but less-fibrous materials.
Cold Press Juicers
The cold press juice is often called the masticating juicer or wheatgrass juicer because of its ability to shred and extract juice from fibrous produces, just like the wheatgrass. This type of machine operates at a slower rate as compared to the centrifugal juicing machine. But don't be fooled with its sluggish speed for it is only because the cold press juicer involves two processes. First, it grinds the food and then chews it in a special compartment. This is to ensure that the hard cell walls of the fruit or vegetable is broken down, resulting to an increased volume of juices. After the first phase, the chewed material is then pressed to take out the juice.
Citrus Juicers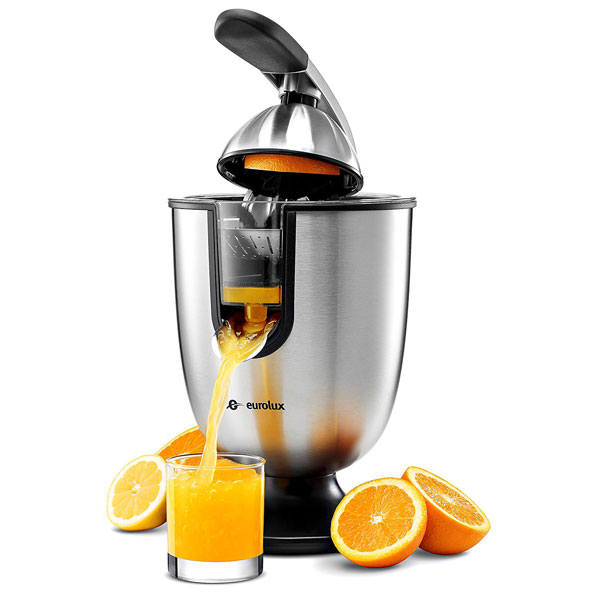 A citrus juicer can either be manual or motorized. These manual citrus juicers vary in size, shape, price, the amount of juice they produce and the type of fruits that they can extract juice from. Citrus Juicers are designed for all types of citrus fruits such as oranges, grapefruits, lemons and limes.
Twin Gear Juicers
The most expensive is the triturating or twin gear juicer. It works like the masticating juicer by chewing the food first and pressing it to extract juice. The plus side of triturating juicers is its ability to reduce oxidization of the food. This is helpful, especially if you are planning to refrigerate the juice. This machine works best with herbs, leaves, and vegetables.
Experts say the best juicing machine to buy is the triturating type since it can juice almost all types of fruits. If time is of the essence, you might as well go for the centrifugal juicer. If you do more mashed fruits for your baby, you would want to take home a masticating juicer. But whichever you choose, remember that juicers are not just a home appliance, for they are important health partners as well.
A Complete Buyers Guide To Juicer
If you haven't bought a juicer before, you may not know where to begin, but this buyer's guide may help you decide which juicer you would like to buy. Here are a few factors you may like to consider before you part with your hard-earned cash:
Budget:
When it comes to buying a new juicer, one of the most important things you will need to consider is your budget. Knowing just how much you intend to spend can stop you from going over-board. It goes without saying that some of the more expensive juicers will have extra features, but if you simply want to juice now and again, you won't have to spend too much money.
Usage:
How often do you intend to use your juicer? If you only intend to use it every now and again, you may not need to buy an expensive all-singing all-dancing one. However, if you plan to use it every day, buying one that you know will last is definitely worth your while.
Features:
Some juicers have the ability to help you make soy milk and even pasta, while others have larger cups so you can make a lot of juice in one go. There are also juicers that can pretty much be placed in the top shelf of the dishwasher, but you will have to read the manufacturer's instructions for details. Some juicers also come with dual speeds, which make it easier to juice hard vegetables and soft fruits.
Size:
Some juicers are monstrous in size, while others aren't very big at all. Consider the fact that one with all the bells and whistles will no doubt have to be larger to accomodate such features.
Take into consideration your counter space, or where ever you plan to rest your juicer. Make sure to read the dimensions on the box of each one that you consider buying.
Style:
When it comes to getting a particular style of juicer, you will find the majority of them are pretty much the same. If you're looking for a retro look however, you should be prepared to pay just that little bit more. When it comes to easy cleaning, the stainless steel juicers are usually the best to go for as a quick wipe with a damp cloth will work wonders.
If you take all of the above factors into consideration, you should find your juicer shopping experience a lot easier, and chances are you will come away with one that's right for you.
Maintenance:
For you it may be best to find a juicer that is very easy to maintain. The maintenance will pretty much be just cleaning by washing and drying, but a juicer that has a lot of parts, or hard to reach parts is obviously going to be more of a chore to take care of.
A good juicer with a respected reputation will make it known to the consumer all that is involved in the cleaning and preparation.
The Health Benefits Of Juicing
Many people are highly interested in starting a juicing plan, and they are well aware that doing so can be good for your body, but most don't really know what the health benefits of juicing are. Well there are tons. In fact so many, that there is no way that they can all be covered in something so simple as an article, but we'll go ahead and take a look at some of the biggest, and most commonly known benefits of juicing.
Juice cleanses the human body. When a person is taking in juice drinks, toxins are being washed away, leaving the body clean and healthy. It also gives skin a healthy glow since the juice hydrates the skin.
 Leafy greens contain what is known as chemical plant fiber, which is very good for fighting off disease, and is believe to be known to thwart major sicknesses. There is also another plus to chemical fiber and that is its ability to help with allergy symptoms long term. If ever there was a reason to start juicing, a safe way to combat allergies would be it.
When you eat anything, the liquids from food contain the energy that your body uses. The actually solids are stripped away and become waste, while the liquids are actually absorbed. Your body is its own juicer. Doesn't seem like a hard concept to grasp until you imagine your body juicing something like a hamburger. There is no reason to be extreme and not enjoy beef every now and then, but one of the benefits of juicing is that it can help with your digestive system, making the absorbtion easier on your body.
By juicing, its much easier to get your daily dose of the essential amino acids, which is very necessary for a healthy life style. The amino acids in discussion are basically impossible to receive any other way other than food, but at the same time the task of trying to get all of them in each and every day can be quite daunting. Juicing makes this much mroe manageable.
Juicing is also a wonderful way to do cleanses, as well as restore energy. One of the best benefits of juicing is the fact that if done properly, metabolism, immune system, and energy levels can become well balanced, meaning that you can have the energy that you need without feeling like you are in over drive.
Juices are not only for health conscious adults, but most especially, for kids as well. What is nice about the effects of juicing and juice drinks is that kids love their taste so it is easy for mothers to give the needed nutrients for their growth.
Conclusion:
In conclusion, the health benefits of juicing are enough reason to realize the need to drink juices preferably on a daily basis. No matter how old or young you are, the bottom line here is that all of us should take care of our body, and drinking juice can help you do just that.