A breadmaker is a machine that mixes the dough, kneads it to perfection and bakes the bread as well – all in one simple process. All you have to do is to measure out the ingredients and add them in the correct order. A bread machine is a great tool for someone who likes bread. It allows you to make your own homemade, delicious bread without the usual mess of having to knead the dough by hand.
The best way to get this fresh bread at home is to use a bread maker, they make baking bread at home very easy and the modern breadmakers produce some stunning bread. Modern bread machine can dispense nuts, seeds or raisins into the bread and they also usually have many different baking modes and so can produce a wide variety of bread. These include different sizes of loaf such as small, medium and large and they can also bake a wide variety of bread such as wholemeal, multi grain, gluten free and sandwich bread and many can also do other types of bread such as rolls or even pizza bases.
There are also lots of other features to look for when you buy a breadmaker and one of the best has to be the timer delay. You can set the bread machine up to start baking at a specific time and so you can make it so that the bread is finished when you get back home .
Best Selling Breadmakers in UK 2018
Giving you the ultimate in breadmaking versatility, the Panasonic SD-2501 WXC Breadmaker allows you to choose just about any type of loaf or dough you can think of….with perfect results, every time.Not a company to simply rest on its laurels after leading the way in innovative breadmaker technology for the last 25 years.
Panasonic's SD-2501 has eleven bread and dough modes and a total of twenty seven different programmes, including white bread, wholemeal, French, rye, spelt, brioche, speciality, 100% gluten free, rolls and dough and bake. Whatever your dietary requirements, this machine should be able to cater for them. What's more, you also have a jam and compote mode with 8 jam and 6 compote recipes to choose from.
Two features set this model apart from the rest; the automatic ingredients dispenser, which allows you to add raisins, seeds or nuts during the baking process and the dedicated kneading paddle for rye and spelt flours. This paddle, like the ordinary one and the baking tin itself, has a non-stick surface which, uniquely to Panasonic, is encrusted with diamond particles. This makes the business end of this machine twice as tough and scratchproof as those of conventional breadmakers.
There are three crust settings and the maximum bread size is 1.2kg, so you can bake a soft or crusty loaf big enough to satisfy the hungriest family. There is also a fast bake option of 115 minutes, for when you just can't wait for that delicious home-baked aroma to permeate your kitchen, or you can use the 13 hour delay timer to make sure your bread is ready exactly when you want it, whether it's first thing in the morning for the ultimate in fresh breakfasts, or in the evening when you come home for a delicious accompaniment to your dinner.
The SD-2501 has  a modern, sleek appearance, with its white, cool-touch housing and ergonomically designed angled control display, which makes operating this machine extremely easy, and it comes complete with a measuring cup, spoon, kneading blades and recipe book. The recipes in the book also allow you to experiment with different amounts of salt, sugar, fats and dairy additions, so you can create freshly baked loaves that taste exactly how you want them to.
The prospect of baking fresh bread within an hour is appealing to many and that is exactly what you can expect with the Russell Hobbs 18036 Breadmaker. This attractive looking bread maker has many features, as follows:
The 18036 can bake a loaf of bread in 55 minutes. There are 12 programme options for bread, and it can mix dough and make jams. This breadmaker makes loaves of three sizes: 1lb, 1.6lb and 2.2lb. The colour of crust is controllable and the options are light, medium and dark.
One of the most useful features of breadmakers is the timer, enabling the user to delay baking the bread until a later time of day or night. The Russell Hobbs 18036 has a 13 hour timer.
The 18036 is user friendly and easy to operate. The is an LCD display to set the controls and a viewing window to monitor progress of the bread.It is reassuring to know that in the event of a power cut, the 18036 can remember the current programme settings for up to seven minutes. Cleaning up after after using the Russell Hobbs 18036 is easy, as both the bread pan and the kneading blade have non stick surfaces and are dishwasher safe.
There's no need to worry about burning your fingers on the breadmaker walls as these are insulated to prevent them from getting too hot to touch. When the bread has finished cooking, the loaf automatically keeps warm for up to an hour afterwards. The feet of the 18036 are non slip making the bread maker that bit safer.
Kenwood make some great bread maker machines, and in the ever more competitive world of bread maker machines the race is on to make these machines as easy as possible for users to make consistently good loaves of bread. How well have Kenwood succeeded in achieving this target with the Kenwood BM 450? Firstly, the BM 450 looks good.
The majority of the bread maker is finished in stainless steel, with a black glass finish at the top. It looks sleek and easy to clean on the sides and at the top where the LCD panel is located.With an impressive number of bread programmes to choose from, 15 in total including jams and doughs, the Kenwood BM450 is a top of the range bread maker, and as such you can expect better quality bread. This bread maker doesn't disappoint.
Sleek and modern with its angled, easy to use control panel and white, cool-touch housing, the Panasonic SD-2500 WXC Breadmaker is probably the best all round product currently available. If you are looking for a wide range of easily understood bread baking options but also want to be assured that each time you use it the bread is going to be of the highest quality, this is the machine you need to choose.
Panasonic were the first to develop home breadmakers 25 years ago and the knowledge and experience they have gained since then is unequivocally apparent in this excellent machine, which features a unique non-stick surface coated with diamond particles applied to the bread pan and kneading paddle, making them twice as tough and scratchproof as those in any other conventional breadmakers.
Incredibly versatile, it offers 10 modes and 25 different programmes so you can choose exactly the type of loaf or dough you want, including several for specific dietary requirements such as 100% gluten-free and even a jam and compote mode.
Programmes include basic white, French, wholewheat, sweet breads such as Viennese rolls, speciality such as spelt bread, pizza base, rolls, brioche and doughs. Whatever type of bread you like, want or need to have, the SD-2500 will cater for and, with the 13-hour timer feature, everyone can have their freshly baked loaf ready just when they want it, whether it's first thing in the morning or in time for dinner. Furthermore, there is a 115 minute faster bake option if you want your loaf in a hurry, but with no compromise on quality.
The great thing about this breadmaker is that it allows you to experiment with the basic recipes, adding more or less of certain ingredients, such as salt, sugar, fats or milk, so you achieve perfection according to your particular taste. An "add ingredients" signal makes sure you don't forget to put in any additions and the 3-way option of choosing how you want your crust means you can select just how crunchy or soft you want your bread to be. If you're either health or cost conscious, or both, you decide what's best for you.
The Panasonic SD-2500 WXC Breadmaker comes complete with measuring cup, spoon, kneading blade and recipe book, so order yours now and fill your home with the delicious, irresistible aroma of freshly baked bread.
With its modern, sleek design and an incredible 19 different baking programmes, the Morphy Richards 48324 Premium Plus Breadmaker has to be one of the best all-rounder machines on the market.
Whether you are making bread, dough, speciality breads, pizzas, jam, cakes or desserts, this breadmaker has all the functions you need to achieve perfect results every time. Add to this the two programmes that allow you to set the controls to suit your own particular recipe preferences, a 12 hour timer and a 70 minute fast-bake option, then it really does have all the bases covered for the creative home baker.
A world of doughs are at your fingertips with the 48324 Premium Plus, from bagels, croissants, whole wheat and ciabatta to hot cross buns and tea cakes, as well as any speciality breads you may wish to try such as gluten-free, corn bread or malt loaf. All of these can be found in the recipe booklet that comes as part of the package.
There are three different sizes of loaf to choose from and a whopping five crust settings, so you can have your bread as crunchy or as soft as your personal taste dictates. Another plus with this machine is the drop-down blade for easy removal – an operation which can be fiddly with some other breadmakers where the blade has to be pulled up out of the tin in order to clean the working areas.
If you are looking for a breadmaker that will give you excellent, worry-free pre-set results plus the scope to experiment and try your hand at different types of home baking, the Morphy Richards 48324 Premium Plus Breadmaker is the one you should choose.
New arrival, at the time of writing, is a smart looking Kenwood BM260 bread maker, finished in an attractive white plastic with grey trim. This bread machine makes a lower demand on power than some of its counterparts, at just 450 watts.
The BM260 has a number of useful programs, namely premium white or brown breads, French, wholewheat, Brioche or sweet bread, gluten free bread, cake, dough, pizza dough, jam, bake only and an eco program, making 11 programs in total. There is an Eco program that makes bread in 85 minutes. A Premium white loaf takes just over 3 hours.This breadmaker bakes bread in 3 sizes, namely 500g, 750g and 1Kgs.
The BM260 gives the user valuable information on the progress of the baking by means of a program status indicator which tells you what stage the bread is at including preheating, kneading, rising, baking and keep warm.There is an lcd display on the top of the breadmaker. A generous 15 hour timer, though it can't be used with all the programs and it comes with the usual caveat not to use this feature with perishable ingredients, such as milk and eggs.
The eco bake setting is used for white loaves and for packets of ready prepared bread mix that you can buy readily in the supermarket. This program needs to start with lukewarm water and there is a bread recipe included in the manual.
Designed, engineered and built to the highest standards, the Cuisinart CBK250U Brushed Breadmaker Stainless Steel is a stylish and extremely practical addition to any kitchen. With its stunning looks, it delivers top quality results every time.
What makes this machine so special, is its convection fan which ensures exactly the right temperature at every stage of the baking process, so you get just the shade of browning and crispness of crust you want. Touch sensitive controls mean it is very easy to use and an internal oven light allows you to follow the progress of your loaf any time you want to. A concealed heating element also means that whenever you have a spill, it is easily cleaned up as there is no awkward-to-get-at residue lurking in any annoyingly unreachable places.
There are twelve pre-programmed menu options to choose from and with the added benefit of its gluten free and rye bread selections, this breadmaker will provide delicious loaves of either 700g or 1000g size, whatever your dietary requirements may be.
It also features a nut and seed dispenser which will automatically add ingredients at the right time for optimum results and a 13 hour timer plus 1 hour keep warm function means you can choose when you want your bread to be ready – fresh for breakfast, lunch, dinner or anytime in-between. Furthermore, it will make jams, compotes and cakes, so it is extremely versatile at allowing you to be a creative genius in your kitchen.
Types of Bread Makers
Automatic Bread Makers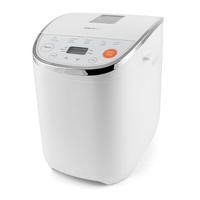 Automatic bread makere, for example, require little or no human intervention for them to produce good results. All you need to do is load the ingredients and switch the power on or set the time that baking should commence if you want bread to be baked later at a later time.
Standard Bread Makers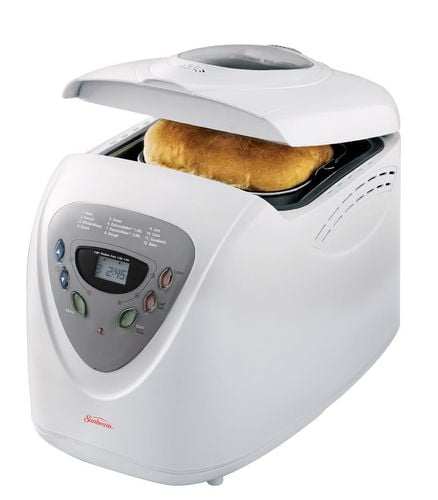 For the standard bread machines (manually operated bread makers), you have to add ingredients in a stepwise manner and make sure that you monitor the whole baking process for the best results. Some of the manually operated machines have a feature that notifies you of when to add the next ingredient.
Commercial Bread Makers
On the other hand, commercial bread makers are designed for large scale production of bread. These bread making machines are not designed for home use because they have high power consumption rates and occupy a large space. They could be an inconvenience in your kitchen.
What to Look for Before Buying a Breadmaker ?
When looking for a good bread making machine, you should know what kind of features you are looking for so that you buy the machine that suits and meets all your needs. The following aspects should be some of the things you should be looking for in a bread maker.
Efficiency
If you want almost all the work to be done for you, an automatic bread maker could be the best catch for you. It would be very efficient for you to bake a loaf of bread.  However, if you want more control and precision, a standard bread maker will work well for you as you are able to monitor the whole baking process.
Baking programs
We do admit to ourselves that needs vary between different people. If you have health problems or even complications and you are becoming more and more gluten intolerant, it would be wise to acquire a bread maker with a gluten free program. Breadmakers with a fast bake function program would be of real value especially when you want bread to be baked within a short time.
Ease of use
The machine that you acquire should be easy to operate and use. Some of the operations provided by the manufacturer are completely useless and you may never use them. Of course a bread maker that is easy to use will ultimately give you the best results.
How to Use a BreadMaker:
1. Get to know your breadmaker: Make sure you read the instruction book carefully before you start doing anything else. Read if there are any necessary steps to make before you use it. Then you can start inspecting it. Take the bread pan out, insert it again, observe how it fits together. Take the kneading paddle out a few times and put it back and see how it reacts.
2. Wash the parts that come in contact with the dough. Make sure you rinse it well in order to remove any left overs from the soap.
3. Become familiar with the settings. As you have already studied the different programs of your bread maker then this step should be fairly easy. It is important that you use the right program according to the type of bread you are baking. Your bread maker will have different programs for example for white bread, wheat bread, whole wheat, gluten free etc. Most bread machines will also allow you to change the settings of the crust to be light, medium or brown according to your preferences. Find out how you adjust the loaf size, the crust settings and the timer.
4. Measure out your ingredients. It is important to be quite exact when it comes to the ingredients as the bread will not bake well if you are not exact. It is a good idea to weigh out your ingredients before you start adding them to the bread maker so you have it all ready before you start.
5. Control the temperature of the ingredients. It is best if the ingredients have the same temperature. If you use liquids like milk or yogurt then take them out of the fridge about ½ hour before you start adding them to the bread maker to make sure it has the same temperature as the remaining ingredients. This will allow the bread to rise properly. Some machines have a feature where the machine takes care of the temperature, so it starts mixing when all the ingredients have the same temperature. If your machine has this then you don't need to worry about taking ingredients out of the fridge before adding them.
6. Add the ingredients in the right order. As a general rule you add the wet ingredients at the bottom and the dry ingredients last. Be careful especially with the salt and the yeast. The yeast should not touch any of the wet ingredients as this can prevent the bread from rising properly. You can make a little indentation in the flour where you can add the yeast as this will prevent it from touching the liquids when the kneading cycle starts.
7. Use the timer. Many bread makers allow you to delay the baking process. This is really useful if you want to have bread ready early in the morning so you can wake up to the smell of fresh bread. Or if you want to bake when you are not at home, then you can set the timer to have the bread ready by the time you'll be home.
8. Choose your program. Most bread makers come with a large variety of programs that allow you to bake many different types of bread. The most common is the basic bread setting that will let you make a classic, white loaf of bread. Many  bread makers also allow you to make whole wheat bread, sandwich bread, dough, gluten free bread, cake, jam, pasta dough, low carb bread ect. Many machines also has an express bake program. You also have to adjust the crust control depending on if you want a light crust or a dark crust.
9. Press start. If your machine has a feature of temperature control then nothing will happen until the ingredients have reached the same temperature. If your machine doesn't have this feature then the machine will start mixing the dough.
10. Add extras if you want. Many bread machines have an alarm that will notify you when it is time to add extras like seeds, nuts, dried fruits, cheese ect. You can make delicious cakes and sweet breads by adding sweet, dried fruits, nuts and spices.
11. Decide if you want to remove the kneading paddles. Some machines allow you to remove the kneading paddles easily and will reshape the bread before baking. Other machines don't have this option so you have to remove the dough and put it back in to get the right shape before baking. You can leave the kneading paddles in while baking. This will leave holes as you have to remove the paddles from the finished loaf. This will leave marks where the paddles have been. Some machines have technology that doesn't make this a problem but other machines are designed in a way that they are hard to remove without destroying the bread. So be aware of this and find out how your model works.
13. Keep warm function. Most bread makers have a keep warm function that allow you to keep the bread warm for usually up to one hour.
14. Remove the bread after the baking cycle is finished. Don't let the bread cool off inside the bread pan, the best is to remove it just after the baking cycle has finished. This will allow the bread to absorb the moisture properly and to let any excess evaporate. If you leave it too long in the baking pan the moisture will collect at the bottom and this can possibly leave you with a too moist bread.
15. Wash all the parts and the machine is ready for the next time. Most parts can be cleaned just using running water and soap. If you prefer to use the dish washer then check first to make sure that the parts are dish washer safe. However, most of the removable parts of often non-stick which is best to clean with a sponge, a bit of soap and some water. Non-stick is usually not good to put in the dish washer as it will slowly tear down the non-stick coating.
16. Store the bread. Don't put your bread in the fridge as it will draw all the moisture out of the bread. Learn how to keep bread fresh and store it in containers, bread boxes or bags.